Custom neodymium magnets according to your company requirements. We sell all grades of neodymium magnets, custom shapes, sizes and coating
Neodymium Magnets Manufacturer,factory In China
Huizhou Fullzen Technology Co.,Ltd is a professional neodymium magnet manufacturer, custom magnet manufacturer,factory, and supplier in china since 2016. We are specialized in experiment, design, engineering, manufacturing, inspection, and assembling of custom neodymium magnets. Customization to meet your company requirements. We offer off-the-shelf products as well as customized services,custom design of permanent magnets,custom shaped neodymium magnets, tailor-made for your industry.
Choose Your Neodymium Magnets
Neodymium magnets introduction
Neodymium magnet, also known as NdFeB magnet, is a Tetragonal crystal system crystal formed by Nd2Fe14B. It is a magnetic material made from metal praseodymium neodymium through preparation and sintering. This kind of magnet is a permanent magnet whose magnetism is second only to Absolute zero holmium magnet, and it is also the most commonly used Rare-earth magnet.
Neodymium magnets chemical composition
Neodymium iron boron permanent magnet material is a permanent magnet material based on the intermetallic compound Nd2Fe14B. The main components are rare earth elements neodymium (Nd), iron (Fe), and boron (B). The main rare earth element is neodymium (Nd), which can be partially replaced by other rare earth metals such as dysprosium (Dy) and praseodymium (Pr) to obtain different properties. Iron can also be partially replaced by other metals such as cobalt (Co) and aluminum (Al). The boron content is small, but it plays an important role in the formation of tetragonal crystal structure intermetallic compounds, making the compounds have high saturation magnetization, high uniaxial anisotropy, and high Curie temperature.
Neodymium magnets Process flow
Process flow: batching → melting and ingot making/strip throwing → powder making → molding → sintering and tempering → magnetic testing → grinding processing → pin cutting processing → electroplating → finished product. The ingredients are the foundation, and sintering and tempering are the key.
Production tools and performance testing tools for neodymium iron boron magnet blanks: including melting furnace, strip throwing furnace, crushing machine, airflow mill, compression molding machine, vacuum packaging machine, isostatic press machine, sintering furnace, heat treatment vacuum furnace, magnetic performance tester, Gaussian meter.
Neodymium iron boron magnet machining tools: centerless grinding, rounding machine, double end grinding, flat grinding, slicing machine, double-sided grinding, wire cutting, bench drill, irregular grinding, etc.
Neodymium magnets applications
Sintered neodymium iron boron permanent magnet materials have excellent magnetic properties and are widely used in fields such as electronics, power machinery, medical equipment, toys, packaging, hardware machinery, aerospace, etc. Common ones include permanent magnet motors, speakers, magnetic separators, computer disk drives, magnetic resonance imaging equipment instruments, etc.
Neodymium magnets magnetization direction and 
surface coating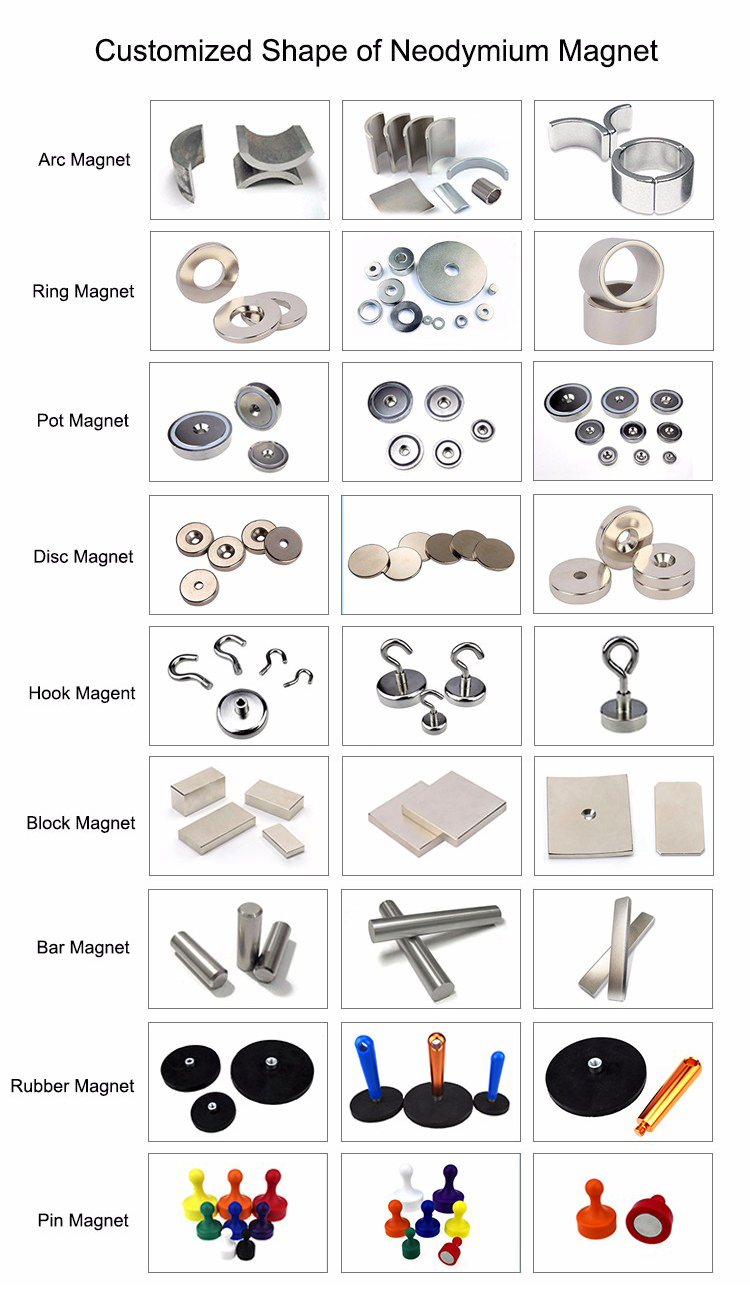 Couldn't find what you looking for?
Generally, there are stocks of common neodymium magnets or raw materials in our warehouse. But if you have special demand, we also provide customization service. We also accept OEM/ODM.
Huizhou Fullzen Technology Co.,Ltd is a professional magnet manufacturer.Our company custom rare earth magnets and one of the top custom magnet manufacturers.We are specialized in experiment, design, engineering, manufacturing, inspection and assembling of custom neodymium magnets. Customization to meet your company requirements.As the following custom guide shows, we sell complete neodymium magnets. We offer off-the-shelf products as well as customized services, custom permanent magnet,tailor-made for your industry.Such as large neodymium arc magnets customized for you.
Size and shape:
We can provide customized disc, cylinder, ring, square cube, rectangular block, arc, countersunk, hook and other irregular permanent magnets.
Manufacture:
We use automatation equipments to cut and grind the raw materials to make the dimantions of the permanent magnet you want, with micro tolerance, to achieve the finishing effect.
Surface treatment:
Permanent magnets are easy to be oxidized. According to customer needs, the surface will be coated, epoxy coated or electroplated to prevent corrosion. We can provide nickel plating, galvanization, electrophoresis and other services.
Temperature Notes:
Permanent magnet is temperature sensitive. We will strictly produce according to the customer's demand for permanent magnets with high temperature resistance.
Material

Sintered Neodymium-Iron-Boron ( NdFeB )

Size

Custom

Shape

B

lock, 

D

isc, 

C

ylinder,

B

ar,

R

ing

, C

ountersunk

,

Segment 

H

ook, 

C

up, 

T

rapezoid

, I

rregular shapes,etc

.

Performance

N33 N35 N38 N40 N42 N45 N48 N50 N52 

N54 etc.

Coating

Zn, Ni-Cu-Ni, Ni, Gold, Silver, Copper, Epoxy, Chrome, etc

Size tolerance

±0.05mm for diamater /thickness, ±0.1mm for width/ length

Magnetization

Thickness Magnetized, Axially Magnetized, Diametrally Magnetized, Multi-poles magnetized, Radial Magnetized. (Customzied specific requirements magnetized)

Max. Working Temperature

Grade

Max. Operating Temperature

N35-N52

80°C (176°F)

33M- 48M

100°C (212°F)

33H-48H

120°C (248°F)

30SH-45SH

150°C (302°F)

30UH-40UH

180°C (356°F)

28EH-38EH

200°C (392°F)

28AH-35AH

220°C (428°F)
| | |
| --- | --- |
| Pieces | Lead Time |
| 1000-10000 | 10 days |
| 10000-100000 | 20 days |
| 100000-1000000 | 30 days |
We are professional Neodymium Magnet manufacturer and supplier in China. We can produce Neodymium Magnet (NdFeB magnet) according to your requirements.
There are mainly the following three performance parameters to determine the performance of the magnet:
Remanence Br: After the permanent magnet is magnetized to technical saturation and the external magnetic field is removed, the retained Br is called the residual magnetic induction.
Coercive force Hc: To reduce the B of the permanent magnet magnetized to technical saturation to zero, the required reverse magnetic field strength is called the magnetic induction coercive force, abbreviated as coercive force.
Magnetic energy product BH: It represents the magnetic energy density established by the magnet in the air gap space (the space between the two magnetic poles of the magnet), that is, the static magnetostatic energy per unit volume of the air gap. Since this energy is equal to the product of the magnet's Bm and Hm, it is called the magnetic energy product.
We can customize permanent magnets with properties between N35-N54 on the market.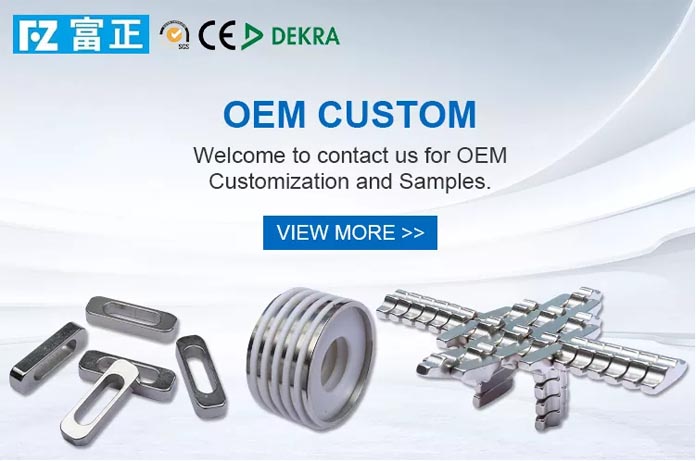 Grade

  

Remanence

Coercive Force

Intrinsic Coercive Force

 

Maximum Energy Product

 

Working Temp

Br

Hcb

Hcj

BH  max

Tw

mT

KGs

kA/m

kOe

kA/m

kOe

kJ/m3

MGOe

N35

1170-1220

11.7-12.2

≥868

≥10.9

≥955

≥12

263-287

33-36

80℃

N38

1220-1250

12.2-12.5

≥899

≥11.3

≥955

≥12

287-310

36-39

80℃

N40

1250-1280

12.5-12.8

≥923

≥11.6

≥955

≥12 

302-326

38-41

80℃

N42

1280-1320

12.8-13.2

≥923

≥11.6

≥955

≥12 

318-342

40-43

80℃ 

N45

1320-1370

13.2-13.7

≥876

≥11.0

≥955

≥12

342-366

43-46

80℃

N48

1370-1420

13.7-14.2

≥892

≥11.2

≥955

≥12

366-390

46-49

80℃

N50

1390-1440

13.9-14.4

≥836

≥10.5

≥955

≥12

374-406

47-51

80℃

N52

1420-1470

14.2-14.7

≥836

≥10.5

≥876

≥11

390-422

49-53

80℃

N55

1460-1520

14.6-15.2

≥716

≥9

≥876

≥11

414-446

52-56

80℃

35M

1170-1220

11.7-12.2

≥868

≥10.9

≥1114

≥14

263-287

33-36

100℃

38M

1220-1250

12.2-12.5

≥899

≥11.3

≥1114

≥14

287-310

36-39

100℃

40M

1250-1280

12.5-12.8

≥923

≥11.6

≥1114

≥14

302-326

38-41

100℃

42M

1280-1320

12.8-13.2

≥995

≥12.0

≥1114

≥14

318-342

40-43

100℃

45M

1320-1370

13.2-13.7

≥995

≥12.5

≥1114

≥14

342-366

43-46 

100℃

48M

1360-1420

13.6-14.2

≥1019

≥12.8

≥1114

≥14

366-390

46-49

100℃

50M

1390-1440

13.9-14.4

≥1035

≥13.0

≥1114

≥14

374-406

47-51

100℃

52M

1420-1470

14.2-14.7

≥995

≥12.5

≥1035

≥13

390-422

49-53

100℃

33H

1130-1170

11.3-11.7

≥836

≥10.5

≥1353

≥17

247-271

31-34

120℃

35H

1170-1220

11.7-12.2

≥868

≥10.9

≥1353

≥17

263-287

33-36

120℃

38H

1220-1250

12.2-12.5

≥899

≥11.3

≥1353

≥17

287-310

36-39

120℃

40H

1250-1280

12.5-12.8

≥923

≥11.6

≥1353

≥17

302-326

38-41

120℃

42H

1280-1320

12.8-13.2

≥955

≥12.0

≥1353

≥17

318-342

40-43

120℃

45H

1320-1370

13.2-13.7

≥971

≥12.2

≥1353

≥17

342-366

43-46

120℃

48H

1360-1420

13.6-14.2

≥1027

≥12.9

≥1353

≥17

366-390

46-49

120℃

50H

1390-1440

13.9-14.4

≥1035

≥13.0

≥1274

≥16

374-406

47-51

120℃

52H

1420-1470

14.2-14.7

≥1035

≥13.0

≥1274

≥16

390-422

49-53

120℃

28SH

1040-1090

10.4-10.9

≥780

≥9.8

≥1592

≥20

207-231

25-28

150℃

30SH

1080-1130

11.3-11.7

≥804

≥10.1

≥1592

≥20

223-247

28-31

150℃

33SH

1130-1170

11.3-11.7

≥844

≥10.6

≥1592

≥20

247-271

31-34

150℃

35SH

1170-1220

11.7-12.2

≥876

≥11

≥1592

≥20

263-287

33-36

150℃

38SH

1220-1250

12.2-12.5

≥907

≥10.5

≥1592

≥20

287-310

36-39

150℃

40SH

1250-1280

12.5-12.8

≥939

≥11.8

≥1592

≥20

302-326

38-41

150℃

42SH

1280-1320

12.8-13.2

≥971

≥12.2

≥1592

≥20

318-342

40-43

150℃

45SH

1320-1370

13.2-13.7

≥979

≥12.3

≥1592

≥20

342-366

43-46

150℃

50SH

1390-1440

13.9-14.4

≥995

≥12.5

≥1592

≥19

374-406

47-51

150℃

52SH

1420-1470

14.2-14.7

≥995

≥12.5

≥1592

≥19

390-422

49-53

150℃

28UH

1020-1080

10.2-10.8

≥764

≥9.6

≥1990

≥25

207-231

25-28

180℃

33UH

1130-1170

11.3-11.7

≥812

≥10.2

≥1990

≥25

247-271

31-34

180℃

35UH

1170-1220

11.7-12.2

≥852

≥10.7

≥1990

≥25

263-287

33-36

180℃

38UH

1220-1250

12.2-12.5

≥860

≥10.8

≥1990

≥25

287-310

36-39

180℃

40UH

1250-1280

12.5-12.8

≥876

≥11.0

≥1990

≥25

302-326

38-41

180℃

42UH

1270-1320

12.7-13.2

≥971

≥12.2

≥1990

≥25

310-342

39-43

180℃

50UH

1390-1440

13.9-14.4

≥899

≥11.3

≥1990

≥25

374-406

47-51

180℃

52UH

1420-1470

14.2-14.7

≥899

≥11.3

≥1990

≥25

390-422

49-53

180℃

28EH

1020-1080

10.2-10.8

≥780

≥9.8

≥2388

≥30

207-231

25-28

200℃

30EH

1080-1130

11.3-11.7

≥812

≥10.2

≥2388

≥30

223-247

28-31

200℃

33EH

1130-1170

11.3-11.7

≥820

≥10.3

≥2388

≥30

247-271

31-34

200℃

35EH

1170-1220

11.7-12.2

≥836

≥10.5

≥2388

≥30

263-287

33-36

200℃

28AH

1020-1080

10.2-10.8

≥780

≥9.8

≥2706

≥34

207-231

25-28

230℃

30AH

1070-1130

10.7-11.3

≥812

≥10.2

≥2706

≥34

215-247

27-31

230℃

33AH

1110-1170

11.1-11.7

≥820

≥10.3

≥2706

≥34

239-271

30-34

230℃