Neodymium Countersunk Magnets Custom
Neodymium countersunk magnets are a functional type of permanent magnets. These magnets have a countersunk hole, so they are easy to fix onto surfaces by using a matching screw. Neodymium (Neo or NdFeB) magnets are permanent magnets, and part of the rare-earth magnet family. Countersunk neodymium magnets have the highest magnetic properties and are the most powerful commercially available magnets today.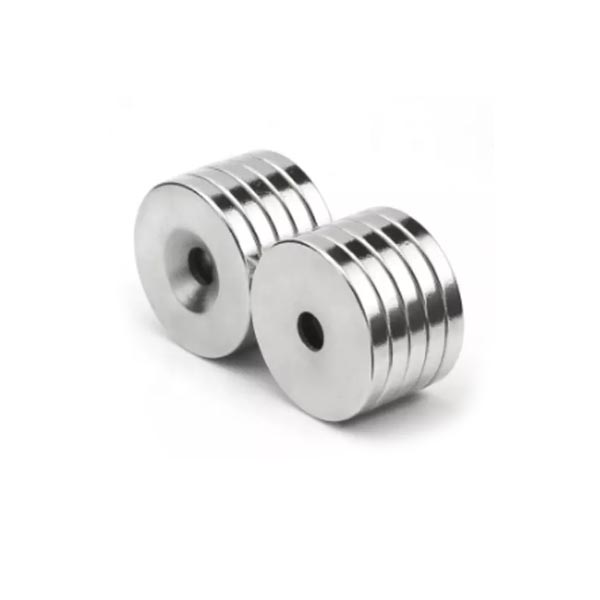 Neodymium Countersunk Magnets Manufacturer,factory In China
Neodymium countersunk magnets, also known as round base, round cup, cup or RB magnets, are powerful mounting magnets made with neodymium magnets in a steel cup with a 90° counterbore on the work surface to accommodate standard Flat head screws.
We manufacture countersunk head magnets by drilling holes in cylinders and then using internal chamfering machines and other processes.
The countersunk neodymium magnets have much domestic and business uses. They can only work with countersunk screws as they are very brittle and fragile magnets.
Custom Your Neodymium Countersunk Magnets
Couldn't find what you looking for?
Generally, there are stocks of common neodymium magnets or raw materials in our warehouse. But if you have special demand, we also provide customization service. We also accept OEM/ODM.
Neodymium cup magnets are used for any application where high-magnetic strength is required. They are ideal for lifting, holding & positioning, and mounting applications for indicators, lights, lamps, antennas, inspection equipment, furniture repair, gate latches, closing mechanisms, machinery, vehicles & more.
Material: Sintered Neodymium-Iron-Boron ( NdFeB )
Size: Custom
Shape: Countersunk
Performance: Customized (N33 N35 N38 N40 N42 N45 N48 N50 N52 ……)
Coating: Nickel/ Customised (Zn, Ni-Cu-Ni, Ni, Gold, Silver, Copper, Epoxy, Chrome, etc)
Size tolerance: ±0.05mm for diameter /thickness, ±0.1mm for width/ length
Magnetization: Thickness Magnetized, Axially Magnetized, Diametrally Magnetized, Multi-poles magnetized, Radial Magnetized. (Customized specific requirements magnetized)
Max. Working Temperature:
N35-N52: 80°C (176°F)
33M- 48M: 100°C (212°F)
33H-48H: 120°C (248°F)
30SH-45SH: 150°C (302°F)
30UH-40UH: 180°C (356°F)
28EH-38EH: 200°C (392°F)
28AH-35AH: 220°C (428°F)